Pramac CX12 Electric Powered Pallet Truck
Product Code: EC149000000
1200KG Capacity
Fully Electric
On-Board Battery Charger
Compact
Low Maintenance
Fork Size1150 x 520mm
Pictures for illustration purposes only, colour and configuration may vary.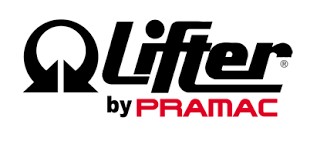 Pramac CX12 Electric Powered Pallet Truck
CX12
The CX12 electric pallet truck is suitable for carrying loads on smooth or paved surfaces. Its small size and turning radius make it the ideal tool to work with in confined spaces, such as lorries or narrow aisles.
MANOEUVRABILITY
Thanks to the B1 width, which is equal to the fork gauge, and the L2 measurement of 360 mm, the CX12 electronic pallet truck is the ideal tool for the handling of pallets on lorries, in supermarket aisles and any application where space is limited. This machine is the best configuration in its category thanks to the frame width, in-service weight and turning radius, thus guaranteeing great manoeuvrability and compactness.
STEERING WHEEL AND CONTROLS
• Ergonomic tiller
• Luminous indicator for battery state control.
• Butterfly valves for traction control.
• Safety pushbutton with warning buzzer.
• Forks way up/down control positioned on both sides of the handle (only on CX14).
• Hour counter in the Plus and Gel versions (only on CX14).
• "Tortoise" pushbutton for slow motion, which allows for the carrying out of operations with the tiller in vertical position.

ROLLERS
Standard configuration provided with single polyurethane rollers. Available tandem rollers as optional.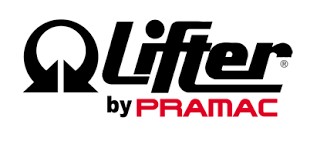 Back to
Pramac CX12 Basic 1200KG Electric Powered Pallet Truck
Specification
*Manufacturers Specication may change without prior notice, this is a guide only*
Description
1.1 Manufacturer LIFTER
1.2 Lift ELECTRIC
1.3 Drive ELECTRIC
1.4 Operator type Pedestrian
1.5 Load capacity Q Kg 1200
1.6 Load centre distance c mm
600 1.8 Load axle to end forks x mm 886
1.9 Wheel base y mm 1119
Weights
2.1 Service weight (battery included) Kg 155
2.2 Axle load, laden rear Kg 924
2.2 Axle load, laden front Kg 431
2.3 Axle load, unladen front Kg 124
2.3 Axle load, unladen rear Kg 31
Tyres/Chassis
3.1 Tyres: front wheels RUBBER
3.1 Tyres: stabilizers wheels - front POLY.I.
3.1 Tyres: rear wheels NYLON
3.2 Tyre size: Steering wheels - Width mm 50
3.2 Tyre size: Steering wheels - Diameter mm 186
3.3 Tyre size: Load rollers - Diameter mm 82
3.3 Tyre size: Load rollers - Width mm 82
3.4 Tyre size: stabilizers wheels front - Diameter mm 75
3.4 Tyre size: stabilizers wheels front - Width mm 32
3.5 Tyre size: rear wheels - Q.ty (X=driven) nr 2
3.5 Tyre size: front wheels - Q.ty (X=driven) nr 1x
3.6 Tread, front b10 mm 369
3.7 Tread, rear b11 mm 371
Dimensions
4.4 Lift height h3 mm 115
4.9 Height of tiller in drive position max h14 mm 1345
4.9 Height of tiller in drive position min h14 mm 885
4.15 Height, lowered h13 mm 85
4.19 Overall lenght l1 mm 1510
4.20 Lenght to face of forks l2 mm 360
4.21 Overall width b1 mm 520
4.22 Fork dimensions - Thickness s mm 55
4.22 Fork dimensions - Width e mm 150
4.22 Fork dimensions - Lenght l mm 1150
4.25 Distance between fork arms b5 mm 520
4.32 Ground clearance, centre of wheelbase m2 mm 30
4.34 Aisle width Ast mm 1782
4.35 Turning radius Wa mm 1268
Performance data
5.1 Travel speed laden Km/h 4.3
5.1 Travel speed unladen Km/h 4.8
5.2 Lifting speed laden m/s 0.03
5.2 Lifting speed unladen m/s 0.04
5.3 Lowering speed laden m/s 0.05
5.3 Lowering speed unladen m/s 0.02
5.8 Max gradeability laden % 10
5.8 Max gradeability unladen % 25
5.10 Service brake Electric
Electric motors
6.1 Drive motor power kW 0.35
6.2 Lift motor power kW 0.4
6.3 Battery Type Tipo AUTOMOTIVE
6.4 Battery voltage V 24
6.4 Battery capacity, Min Ah 60
6.4 Battery capacity, Max Ah 60
6.5 Battery weight, Min Kg 25
6.5 Battery weight, Max Kg 40
6.6 Energy consumption according to VDI cycle kWh/h 0.28
8.4 Sound level at driver's ear dB(A) 67