Pramac P14000 400v AVR Yanmar Diesel Generator
Product Code: PF143TYAZ08
Currently back order only, please call prior to purchase.
Yanmar Engine

Super Quiet Canopy 67dB(A)@7 meters

Fully Bunded Base Frame

400v 50Hz.

14kVA Standby 12.4kVA continuous

Remote Start/Stop - 2 Wire.

+CONN Connectror for Accessories & Standby Apps

High Quality Build & Components
Pictures for illustration purposes only, colour and configuration may vary.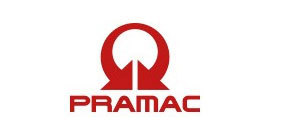 Pramac P14000 400v AVR Yanmar Diesel Generator
Low noise level, it is the ideal generator for use in residential areas or outside normal working hours. It's equipped with a reliable Diesel engine, first class components and complete instrumentation.
Main Features
Frequency Hz: 50
Voltage V: 400/231
Power factor cos Ï•: 0.8
Phase: 3
Power Rating
Standby power LTP kVA: 14.04
Standby power LTP kW: 11.23
Prime power PRP kVA: 13.52
Prime power PRP kW: 10.82
Continuous power COP kVA: 12.40
Continuous power COP kW: 9.92
Single Phase Power Rating
Single phase standby power LTP kVA: 10.80
Single phase continuous power COP kVA: 10.00
Ratings definition (According to standard ISO8528 1:2005)

Back to
3-Phase Portable Generators
Specification
Specifications.

*Manufacturers Specication may change without prior notice, this is a guide only*
Engine specifications
Engine manufacturer: Yanmar
Model: 3TNM74FNHPGE [50Hz]
Exhaust emission level: Stage V
Engine cooling system: Water
Displacement cm³: 993
Aspiration: Natural
Operating Speed-Nominal rpm: 3000
Speed governor: Mechanical
Fuel: Diesel
Oil capacity l: 3.4
Coolant capacity l: 1
Starting system: Electric
Electric circuit V: 12
Alternator Specifications
Class: H
IP protection: 23
Poles: 2
Frequency Hz: 50
Voltage V: 400
Voltage regulation system: Electronic Standard AVR AVR960D
Voltage tolerance %: 5
Dimensional data
Length (L) mm 1500 Width (W) mm 754 Height (H) mm 1032
Dry weight Kg: 431.5
Fuel tank capacity l: 51
Autonomy Fuel consumption @ 75% PRP l/h: 3.21
Fuel consumption @ 100% PRP l/h: 4.54
Running time @ 75% PRP h: 15.89
Running time @ 100% PRP h: 11.23
Noise level Noise pressure level @ 7 m dB(A): 67
SOCKET TYPE
1 x SCHUKO 230V 16A IP68
1 x 2P+T CEE 230V 16A IP67
1 x 3P+N+T CEE 400V 16A IP67
1 x 3P+N+T CEE 400V 32A IP67