Pramac GSW1010M 201-2600kVA Diesel Generator
Product Code: Pramac GSW1010M
Quality Build and specification
Standby/Prime Rating
Sound Attenuated
Weatherproof
MTU engine
Full options list available
Pictures for illustration purposes only, colour and configuration may vary.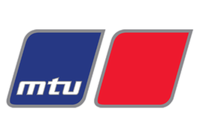 Price on Application
Please contact us for a great deal.
Delivery of Power Systems
Please contact us to discuss your delivery requirements
Pramac GSW1010M 201-2600kVA Diesel Generator
Pramac GSW1010M
Main Features
Frequency Hz: 50
Voltage V, 400
Power factor cos Ï•: 0.8
Phase and connection: 3
Power Rating Standby power LTP kVA: 1005.28
Standby power LTP kW: 804.22
Prime power PRP kVA: 908.68
Prime power PRP kW: 726.94
PRP Rating available only with engine supplement: DPA Ratings definition (According to standard ISO8528 1:2005) PRP - Prime Power: It is defined as being the maximum power which a generating set is capable of delivering continuously whilst supplying a variable electrical load when operated for an unlimited number of hours per year under the agreed operating conditions with the maintenance intervals and procedures being carried out as prescribed by the manufacturer. The permissible average power output over 24 h of operation shall not exceed 70 % of the prime power. LTP - Limited-Time running Power: It is defined as the maximum power available, under the agreed operating conditions, for which the generating set is capable of delivering for up to 500 h of operation per year (whose no more than 300 for continuative use) with the maintenance intervals and procedures being carried out as prescribed by the manufacturers. No overload capability is available.
Genset equipment
BASE FRAME: Base frame made of welded steel profiles, complete with anti-vibration mountings properly sized. The baseframe has a grounding point to connect all metal parts of the generating set and it provides a high structural strength.
ENGINE COMPLETE WITH: • Liquids (no fuel)
MANUAL OIL DRAININ PUMP: • Oil draining facilities
CANOPY: • Soundproof canopy made up of monolithic structure, built to achieve a high degree of stability and a protection against any kind of movement or infiltration. This kind of canopies are designed to meet a high standard of toughness and good noise attenuation as well as resistance to atmospheric agents, providing an integral solution ready for its installation both indoor and outdoor. • Easy access to the genset for maintenance purposes thanks to: Wide lateral access doors fixed by stainless steel hinges and provided with lockable. • Control panel protection door provided with suitable window and lockable handle. • Lateral air inlet opening properly protected and soundproofed. Exhaust air outlet from the roof, trough wet section protected by proper grid. • Lifting points located on the roof to facilitate the transport.
SOUNDPROOF: • Noise attenuation thanks to soundproofing material • Efficient residential silencer placed inside the canopy
Dimensional data
Length (L) mm: 6700
Width (W) mm: 2170
Height (H) mm: 2896
Consumption Fuel consumption @ 75% PRP l/h: 142.47
Fuel consumption @ 100% PRP l/h: 184.23
Noise level Noise pressure level @ 7 mt dB(A): 77 +/-3
Installation data Exhaust gas flow @ PRP m³/min: 150
Exhaust gas temperature @ LTP °C: 545
Data Current Battery capacity Ah: 220
MAX current A: 1451.03
Circuit breaker A: 1600
Control panel availability
AUTOMATIC CONTROL PANEL
 ACP MODULAR PARALLEL PANEL  MPP

Back to
Standby Diesel Generators 201-2600kVA
Specification
Engine specifications
Engine manufacturer: MTU
Model: 16V2000G16F 3E
Version: 3D 50Hz
PRP Rating only with supplement: DPA [50Hz]
Exhaust emission level: Unregulated
Engine cooling system: Water
Nr. of cylinder and disposition: 16 V
Displacement cm³: 35700
Aspiration: Turbocharged aftercooled
Speed governor: Electronic
Operating Speed-Nominal rpm: 1500
Prime gross power PRP kW: 806
Maximum gross power LTP kW: 887
Oil capacity l: 114
Lube oil consumption @ PRP (max) %: 0.35
Coolant capacity l: 150
Fuel Diesel Specific fuel consumption @ 75% PRP g/kWh: 195
Specific fuel consumption @ PRP g/kWh: 192
Starting system: Electric
Electric circuit V: 24
Fuel system: • Electronically controlled high-pressure injection with single unit injection pumps (EUP) • Fuel delivery pump • Fuel main filter • Fuel priming pump for initial system filling and venting • Closed fuel system
Lube oil system: • Forced-feed lubrication system with piston cooling • Lube oil circulation pump with safety valve • Lube oil multi-stage filte • Lube oil heat exchanger • Oil filler neck and oil dipstick for measurement on non-running engine • Closed crankcase venting system Combustion air system: • Exhaust turbochargers • Set of dry-type air filters with contamination indicator
Cooling system : • Coolant circulation pump and coolant thermostat for jacket water cooling systems • Engine-mounted fan drive • Front-type radiator for jacket water and charge air cooling circuit with integrated expansion tank • Coolant level sensor
Alternator Specifications
Alternator: Mecc Alte
Model: ECO43-2SN/4
Voltage V: 400
Frequency Hz: 50
Power factor cos Ï•: 0.8
Voltage regulation system: Electronic
Poles: 4
Type: Brushless
Standard AVR: DER1
Voltage tolerance %: 1
Efficiency @ 75% load %; 95.7
Class: H
IP protection: 21
Phases: 3