Pramac GA10000 Residential Standby Generator - LPG/NG
Product Code: PS103YXM000LPG
• GENERAC G-FORCE OHV Engine
• Fuel/Power: LPG - 10kVA
• Electronic Governor
• Sound Attenuated Aluminium Enclosure
• True Power™ Electrical Technology
• Sound Attenuated Aluminium Enclosure
• Free technical engineer support, don't get caught out by web only resellers
• Free Mobile Link™ Wi-Fi Remote Monitoring through App
• 5 Year Limited Warranty + Extra 5 Years For £750.00
Pictures for illustration purposes only, colour and configuration may vary.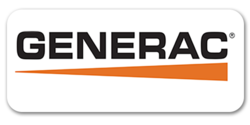 Pramac GA10000 Residential Standby Generator - LPG/NG
Air-Cooled Gas Engine
FEATURES
• GENERAC G-FORCE OHV Engine
• Fuel: Natural Gas or LP Gas Operation
• Electronic Governor
• Sound Attenuated Aluminium Enclosure
• True Power™ Electrical Technology
• Two Line LCD Multilingual Digital Evolution™ Controller
• System Status & Maintenance Interval LED Indicators
• Sound Attenuated Aluminium Enclosure
• Flexible Fuel Line Connector
• Wi-Fi communications standard
• Free Mobile Link™ Wi-Fi Remote Monitoring through App
• 5 Year Limited Warranty

AUTOMATIC BACKUP POWER GENERATORS Compatible with LTS Load Transfer Switches (Accessory)

PERFORMANCE
Stand By Power LTP (LP Gas) VA: 10000 - 10kVA
Stand By Power LTP (Natural Gas) VA: 10000 - 10kVA
Frequency Hz: 50
Voltage V: 230
Phase: 1
Power factor cos Ï• : 1
Rating definitions - Standby: Applicable for supplying emergency power for the duration of the utility power outage. No overload capability is available for this rating. (All ratings in accordance with BS5514, ISO3046 and DIN6271). Maximum kilovolt amps and current are subject to and limited by such factors as fuel Btu/megajoule content, ambient temperature, altitude, engine power and condition, etc. Maximum power decreases about 3.5 percent for each 305 meters above sea level; and also will decrease about 1 percent for each 6 °C above 16 °C.

Back to
LPG & Dual Fuel Generators
Specification
*Specs may change without prior notice*
Engine specifications
Engine manufacturer: Generac
Model: G-FORCE 1000 SERIES
Type: OHV
Engine cooling system: Air
Nr. of cylinder and disposition: 2 V angle
Displacement cm³: 999
Compression Ratio: 9.5:1
Starting system: Electric
Electric circuit V: 12
Speed governor: Electronic
Operating Speed-Nominal rpm: 3000
Oil capacity l: 1.6
Fuel: Natural Gas or LP Gas
• Natural Gas: Fuel consumption 50% m³/h 3.43
• Natural Gas: Fuel consumption 100% m³/h 5.24
• Liquid Propane Gas: Fuel consumption 50% m³/h 4.20
• Liquid Propane Gas: Fuel consumption 100% m³/h 6.99
Alternator Specifications
Frequency Hz: 50
Voltage regulation system: AVR
Phases: 1
Poles: 2
Data Current
MAX current (Liquid Propane) A: 43.48
MAX current (Natural Gas) A: 43.48
Circuit breaker A: 4
Dimensional data
Length (L) mm 1218 Width (W) mm 638 Height (H) mm 732
Dry weight Kg: 176
Noise Level Guaranteed noise level (LWA) dB(A): 95
Noise pressure level @ 7 mt dB(A): 67
Qiuet-Test Mode dB(A): 60