Greengear GE-5000 LPG Only Generator
Product Code: P.GE.PRT.05.002
LPG Only
Save up to 48% on Fuel

New Self Priming

Enerkit Carburettor for 2022 Version

New Push Button

Electric Start for 2022 Version
Very Low Emissions/Odour/Noise 72db @ 7m
Delivery Charges May Apply
5 kW Rated / 5.5 kW Max
2 x 115v Socket/Output & 1 x 230v Socket/Output
*Wheel Kit has to be assembled by the cutomer, supplied loose.*
Pictures for illustration purposes only, colour and configuration may vary.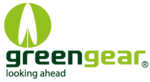 Greengear GE-5000 LPG Only Generator
Greengear generators are LPG powered only and are ideal for environments where petrol & duel fuel generators cannot be used, they are also idealy suited for use in mobile catering and leisure activities.
Being much quieter than petrol equivalents they also emit lower emissions than petrol including CO2, NOx & SOx making them very ecological in comparison. They are also significantly quieter than there petrol stablemates, another distinct advantage.

They come with the following:

Multifunction Display - The multifunction display screen allows you to verify the generator's working functions at all times. Using the button, you can switch between checking the Voltage, Frequency and Hours of use.
Gas Connection - Connecting the gas cylinder is easy, thanks to the dedicated connector located at the rear of the generator.
Enerkit - Each Generator is equipped with a unique LPG dedicated ENERKIT carburettor, allowing optimum performance. ENERKIT has an automatic safety shut off valve, stopping the fuel supply when the engine is off.

Recoil - Start If the battery is recharging, recoil start is available as a backup source to start the generator.
Voltage Switch - The voltage selection switch allows you to change between 115V and 230V depending on the need.

Warranty: 1000hrs or 2 years, which ever comes first, please see our terms and conditions.
Back to
Greengear LPG Generators
Specification
*Specs may change without prior notice*
Engine GG3GN – 4 stroke

Displacement - 390 cc - 4 stroke

Rated Output 5.0 kW

Maximum output 5.5 kW

21.7amps Output

1 x 32amp 110v CEE, 1 x 32amp 230v CEE Sockets

Noise output 72 dB at 7 m

Approx. Gas consumption 19kg - 21 hours*

Weighs 88 kg

70cm x 53cm x 50cm

Electric start

Multi functional display: Working hours, Voltage, frequency

Rated Frequency 50Hz

Rated voltage 115/230 V

Save up to 62% on fuel efficiency vs. petrol*

Less exhaust emissions than petrol including CO2, NOx and SOx

No smell or soot

Reduced cost in service and repairs compared to petrol generators

Portable, with its integrated wheels and handles

Dimensions mm: 700 x 570 x 500
*Run Time at 75% Load Depends on cylinder size, load and environmental factors.