Powermate PMD5000S 230v +AVR +CONN Powermate By Pramac Generator.
Product Code: PR452SXAZ00
Powermate OHV diesel engine
Long run tank
Electric start
Digital meter + AVR
Handle and wheels for easy movement
Order Oil Here 2 Litres Req
Great home standby with +CONN optional ATS panel for automatic home start
Pictures for illustration purposes only, colour and configuration may vary.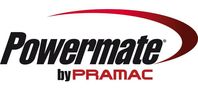 Powermate PMD5000S 230v +AVR +CONN Powermate By Pramac Generator.
Diesel and soundproof for reliability with low operating cost in the maximum comfort. Handle and wheels allow easy move and transportation. Generous fuel tank capacity allows for long continuous running time. Built-in digital multimeter with hour meter for scheduled maintenance intervals and ensure optimal operating condition. Automatic Voltage Regulator (AVR) allows for voltage stability. Connector for Powermate Automatic Transfer Switch (ATS), connect your home for automatic start-up when power fails - optional. Power coated finish helps to prevent corrosion in all weather conditions.
FEATURES
• Powermate OHV engine provides consistent power for multiple applications
• Fuel: Diesel
• Starting Systems: Electric (with battery)
• Low-oil level shutdown automatically safeguards engine from damage
• Digital multi meter tracks engine runtime for maintenance intervals
• Fuel gauge allows user to track diesel levels
• AVR Automatic Voltage Regulator
• Equipped with 4 wheels for move and transport easily
• Central lifting point
• Optional Automatic Transfer Switch For an optimal home safety PERFORMANCE
Frequency Hz 50
Voltage V 230
Phase 1
Max Power Watts 4950
Rated Power Watts 4200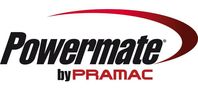 Back to
Powermate By Pramac Generators.
Specification
Engine Brand: Powermate
Type: OHV
Operating Speed Nominal rpm: 3000
Fuel: Diesel
Starting System: Electric
Oil capacity l: 1.65
Low Oil Shutdown √ Alternator Voltage regulation system AVR
DIMENSIONAL DATA
Length mm: 910
Width mm: 518
Height mm: 682
Dry weight Kg: 165
Carton box dimension LxWxH mm: 950x570x765
AUTONOMY
Fuel tank capacity: 14.5
Fuel consumption @ 75% l/h: 1.3
Running time @ 75% h: 11
Noise level Guaranteed noise level (LWA) dB(A): 97
Noise pressure level @ 7 mt dB(A): 69
CONTROL PANEL
Mounted on the genset and complete of: instrumentation, control, protection of the generating set and sockets. COMMANDS: ● Start selector switch with key: OFF - ON - START INSTRUMENTATION ● Voltmeter ● Hours-counter ● Frequency meter ● Fuel gauge PROTECTIONS: ● Thermal Magnetic breaker ● Oil Guard (with lamp) ● Fuse 9A (12V DC) OUTPUT: ● Battery Charger 12V DC ● PE screw ● Connector for ATS (Accessory available) SOCKET TYPE SCHUKO 230V 16A IP44 1 2P+T CEE 230V 32A IP44 1
ACCESSORIES
Control Panel ATS.